Feeder Open Calling TZH128 AIFF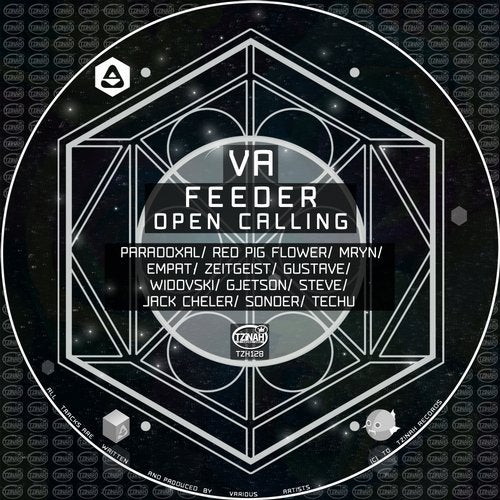 ARTIST VA
RELEASE TITLE VA - Feeder Open Calling
LABEL Tzinah Records
CATALOG TZH128
GENRE Minimal / Deep Tech, Tech House
AUDIO FORMAT AIFF Lossless 16bit 1411kbps
RELEASE DATE 2020-01-14
https://www.beatport.com/release/va-feeder-open-calling/2816252
11 TRACKS:


Because we have kind of the same mission, because we have kind of the same passion, because we love to promote the underground artists and to bring new music to your ears, we teamed up with feeder.ro and we have another prize for their Open Call contest for producers, and that is a realease into our world wide know music label. As Primarie was part of the jury for this contest, and had to choose 3 tracks for the winning places, and we continued the picking until we had not ten but eleven, for a special VA. We're welcoming to our record label new artists: GJetson, Widovski, Mryn, Jack Cheler, Sonder, Zeitgeist, Gustave, Empat and Red Pig Flower in addition to our collegues Paradoxal, Techu, and Steve . This is the story of VA - Feeder Open Calling from Tzinah with Love.
Paradoxal

- Lost Treasure in the Woods (Original Mix) 08:35

125bpm Dmin

Techu

- Pana De Curent (Original Mix) 09:13

125bpm Dmin

Gjetson

- Faithmore (Original Mix) 08:23

124bpm C#min

Widovski

- Erised's Mirror (Original Mix) 09:28

125bpm Amin

Steve (RO)

- Archonic (Original Mix) 08:45

125bpm D#min

Mryn

- Eerie (Original Mix) 09:48

126bpm A#maj

Jack Cheler

- Photography (Original Mix) 07:35

125bpm Amaj

Sonder

- Space Baby (Original Mix) 08:55

124bpm Gmin

Zeitgeist, Gustave

- El Laberinto (Original Mix) 06:36

126bpm Bmin

Empat

- Voice Within (Original Mix) 07:58

125bpm Emaj

Red Pig Flower

- You Are Not Mine (Original Mix) 08:24

127bpm Fmaj
Download: NiTROFLARE - ALFAFILE