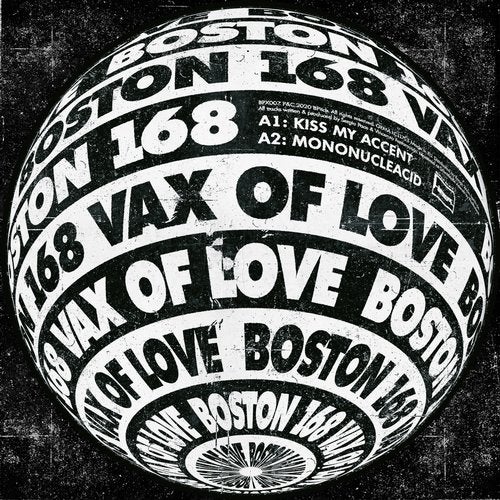 ARTIST Boston 168
RELEASE TITLE Vax Of Love
LABEL Bpitch
CATALOG BPX007
GENRE Techno (Peak Time / Driving / Hard)
AUDIO FORMAT AIFF Lossless 1411kbps / MP3 320kbps CBR
RELEASE DATE 2020-07-03
MP3 NiTROFLARE / ALFAFILE
AIFF NiTROFLARE / ALFAFILE


Boston 168

- Kiss My Accent (Original Mix)

05:49 140bpm Dmaj

Boston 168

- Mononucleacid (Original Mix)

06:42 130bpm Bmin

Boston 168

- Vax Of Love (Original Mix)

07:02 140bpm Cmin
BPitch welcomes Italian acid duo Boston 168 back to the fold as the labels 2020 campaign continues. The pair produced the 909 Therapy EP and the back in 2019 after their successful Drops In Heaven debut
on BPitch, so its a pleasure to have them return with Vax Of Love, a three-track continuation of their ex- periments with industrial sounds and the timeless appeal of the beloved Roland TR-303 and its squelchy secretions. What we have here is the product of one of Italys Motor Cities, the ghosts of abandoned factories present in every beat, bassline and acid-tinged motif...
First up is Kiss My Accent, a dense playful cut with a potent analogue hoover effect keeping the energy le- vels high. Pounding beats propel the track forward, while the analogue riff warps and twists, modulating into various guises throughout. Its dramatic and tense, moving the listener physically and mentally.
This is followed by Mononucleacid, which has a morose feeling from the start. The drums stomp down sen- ding shockwaves through the ground as the rhythm grabs you and refuses to let go. Were taken back with a nineties influence, though the production levels are crisp and contemporary. As the cut progresses Boston 168 cultivate a stirring atmosphere designed to ignite the dance floor and cause uproar.
Finally, Vax Of Love takes us into breakbeat territory as the duo put their own spin on a familiar drum pattern. Its strange and unique, with rousing organ-esque effects working in tandem with cosmic squelch effects and a wistful spoken word sample. The beats switch up, taking on a 4x4 rhythm at one point, Boston 168 showcasing their creative flair with this one. The intensity increases after a short breakdown, leading us to the interstellar ending...