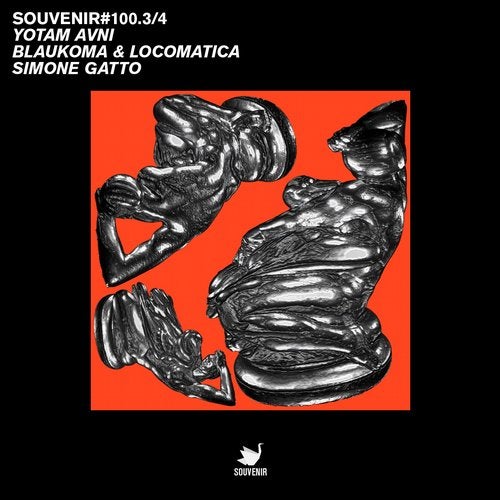 ARTIST VA
RELEASE TITLE SOUVENIR#100.3/4
LABEL Souvenir Music
CATALOG SOUV100PART3
GENRE Techno
AUDIO FORMAT FLAC Lossless 16bit
RELEASE DATE 2019-11-08
https://www.beatport.com/release/souvenir-number-100-3-4/2753943
3 TRACKS:


Wow. This feels like a dream, but it's absolutely real. Souvenir, the label started in 2006 by brothers Ali & Basti Schwarz has reached triple digits. It is time to celebrate this landmark moment in true Tiefschwarz style with a massive 4x EP featuring a collection of brand new jams. Souvenir 100 is a confident musical portrayal into the sound of 2019 and beyond, featuring 12 freshly crafted cuts inspired by the 99 releases that have lead up to this exact time and space.
Found within the 100th release extravaganza is a snapshot of Souvenir Music proudly facing towards the future. A collected effort from the labels best past and present producers, and new friends just now joining the label. Release number 100 is not a throwback to their favorite past moments, but instead the perfect opportunity to move things toward a new sonic direction – further innovating the sounds celebrated on the dancefloor and enjoyed in the headphones alike. Souvenir 100 is a diverse and brilliant statement of modern electronic music, perfectly showcasing exactly where the label is headed to next.
The 4x EP collection features brand new music from: Tiefschwarz, T. Raumschmiere & Deadbeat, Yotam Avni, CYRK, Ruede Hagelstein, Bruno Pronsato, Panthera Krause, Sousk, Simone Gatto, Alinka, Orlando Voorn, Blaukoma & Locomatica. Yes. This is a diverse and exciting roster of brilliant talent who's tracks cover an exciting range of sounds and styles – from the prime time late-night bangers to more experimental heads down psychedelic trips (and everything in between). As you can trust from the label, the release celebrates musical diversity, remains forward-facing and is absolutely essential for every part of the night (and days) experience.
Souvenir Music would like to use this space to extend a warm thank you to all the fans, DJs, dancers, producers and supporters of the label. Without you, the crew wouldn't be able to live this beautiful sonic dream.
Yotam Avni

- A Track Called Armani (Original Mix) 06:17

125bpm G#maj

Locomatica, Blaukoma

- Brute (Original Mix) 05:55

130bpm Dmin

Simone Gatto

- Deep Chord (Original Mix) 06:05

125bpm Amaj
Download: NiTROFLARE - ALFAFILE