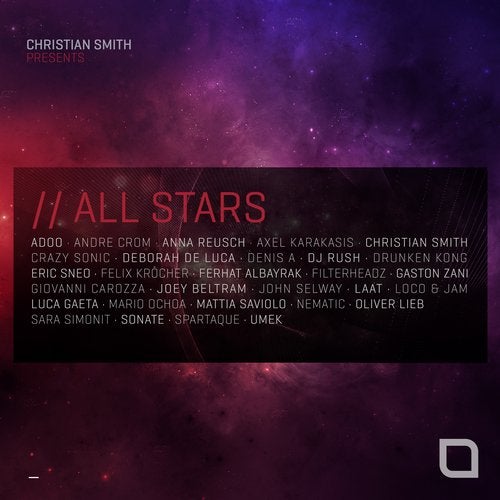 ARTIST VA
RELEASE TITLE ALL STARS 2020
LABEL Tronic
CATALOG TR343
GENRE Techno
AUDIO FORMAT WAV Lossless 1411kbps
RELEASE DATE 2019-11-29
https://www.beatport.com/release/all-stars-2020/2775023
73 TRACKS:


We proudly present to you our annual All Stars compilation featuring some of our favorite Tronic releases of the year. Please take your time and check out these tunes! Thanks for your support and trust in Tronic!
Christian Smith, Drunken Kong

- Hikari (Original Mix) 07:22

127bpm Amaj

Felix Krocher

- Free Yourself (Original Mix) 06:50

128bpm Fmaj

Filterheadz, Gaston Zani

- Perspective (Original Mix) 06:33

128bpm Amin

Mattia Saviolo

- Multinode Universe (Original Mix) 07:18

128bpm Amin

Nematic

- Pecular (John Selway Remix) 07:00

128bpm Emaj

Anna Reusch

- High Chords (Original Mix) 02:42

127bpm Emaj

Deborah De Luca

- Ahno (Original Mix) 07:12

126bpm Amin

Eric Sneo, DJ Rush

- Body Control (Original Mix) 05:58

128bpm Gmin

Ferhat Albayrak

- Sundrowler (Original Mix) 08:07

126bpm Dmaj

LAAT

- Mask Yourself (Original Mix) 06:17

128bpm Amaj

Loco & Jam

- Halcyon (Original Mix) 06:26

125bpm Fmaj

Mario Ochoa

- Become Human (Original Mix) 06:41

125bpm Amin

Sara Simonit

- Evolution (Original Mix) 08:03

129bpm Fmaj

Drunken Kong

- Two Rivers (Original Mix) 02:26

126bpm Amaj

Crazy Sonic

- The Peak (Original Mix) 06:29

125bpm Fmaj

Andre Crom

- Glow (Original Mix) 05:55

131bpm Fmin

Adoo

- Change The Bass (Original Mix) 06:27

130bpm D#maj

Axel Karakasis

- Fast Stranger (Original Mix) 06:31

130bpm G#maj

Felix Krocher

- Shadows (Original Mix) 06:48

120bpm Fmin

Mattia Saviolo

- Identity (Original Mix) 07:22

128bpm Gmin

Sara Simonit

- My Wish (Original Mix) 05:36

127bpm Amin

Axel Karakasis

- Cookoovaya (Original Mix) 07:01

130bpm Gmin

Deborah De Luca

- Galaxy (Original Mix) 06:58

125bpm F#maj

Oliver Lieb

- Stream Of Pearls (Original Mix) 07:06

127bpm Amin

Ferhat Albayrak

- Sundrowler (Joey Beltram Remix) 06:51

126bpm Gmaj

Denis A

- Quartet (Drunken Kong Remix) 07:53

127bpm Dmin

Andre Crom

- The Mirror Method (Original Mix) 06:03

128bpm F#min

Sara Simonit

- Freeze (Original Mix) 07:45

130bpm A#min

Felix Krocher

- Free Yourself (Hidden Empire Remix) 08:03

125bpm Fmaj

Adoo

- After Four Years (Original Mix) 06:28

130bpm Amin

LAAT

- Mask Yourself (Dub Mix) 05:32

128bpm Amaj

Loco & Jam

- We Came We Raved (Original Mix) 08:30

125bpm Fmaj

UMEK

- Environs (Original Mix) 05:48

128bpm Dmin

Denis A

- Iceland (Original Mix) 06:41

125bpm Cmaj

Filterheadz, Gaston Zani

- Fortitude (Original Mix) 06:32

128bpm Amaj

Nematic

- Pecular (Original Mix) 07:09

128bpm Amin

Drunken Kong

- Begin (Original Mix) 06:51

127bpm D#min

Ferhat Albayrak

- Sundrowler (Luca Gaeta Remix) 06:46

130bpm Dmin

Axel Karakasis

- Secular Liquid (Original Mix) 05:59

131bpm F#min

Anna Reusch

- Atmosphere (Original Mix) 08:15

127bpm Fmaj

Mario Ochoa

- The Comeback (Original Mix) 07:05

128bpm G#maj

LAAT

- State Of Play (Original Mix) 07:48

125bpm Amaj

Christian Smith, Drunken Kong

- Why Are We Here? (Original Mix) 07:41

130bpm Bmin

Andre Crom

- The Mirror Method (Giovanni Carozza Remix) 06:09

130bpm A#min

Felix Krocher

- Territory (Original Mix) 06:35

128bpm Amin

Nematic

- Pecular (Sonate Remix) 05:55

131bpm Cmaj

Sara Simonit

- Space Division (Original Mix) 06:37

128bpm Fmaj

UMEK

- Side Missions (Original Mix) 06:12

125bpm Fmaj

Crazy Sonic

- Earworm (Original Mix) 06:24

125bpm G#maj

Eric Sneo, DJ Rush

- Easy (Original Mix) 06:42

130bpm Gmin

Anna Reusch

- I'm About (Original Mix) 06:22

127bpm Dmin

Filterheadz, Gaston Zani

- Possession (Original Mix) 06:38

126bpm Bmin

Sara Simonit

- Don't Wait (Original Mix) 07:00

129bpm Cmaj

LAAT

- Cloudrunner (Original Mix) 06:48

127bpm F#min

Drunken Kong

- Some Day (Original Mix) 07:21

125bpm D#min

Oliver Lieb

- Violet Sky (Original Mix) 08:05

128bpm Amin

Crazy Sonic

- Long Nights (Original Mix) 07:20

122bpm G#maj

Denis A

- Quartet (Original Mix) 07:00

124bpm Amin

Sara Simonit

- Magia (Original Mix) 06:51

126bpm D#min

Mario Ochoa

- Panorama (Original Mix) 07:18

128bpm Cmin

Drunken Kong

- The Line (Original Mix) 07:22

127bpm Cmaj

Axel Karakasis

- Evil Lust (Original Mix) 06:57

131bpm Amin

Loco & Jam

- Elektron (Original Mix) 07:18

128bpm Gmaj

Mattia Saviolo

- Spacecraft (Original Mix) 06:53

130bpm A#maj

Eric Sneo, DJ Rush

- Take Me Back (Original Mix) 06:28

131bpm Amin

Deborah De Luca

- Writing A Song (Original Mix) 07:01

126bpm F#min

Oliver Lieb

- Tesla (Original Mix) 07:37

128bpm Cmin

Andre Crom

- Glow (Spartaque Remix) 05:50

130bpm Amin

Adoo

- Get (Original Mix) 06:19

130bpm A#maj

Crazy Sonic

- The Rough Sea (Original Mix) 07:27

126bpm Dmaj

Sara Simonit

- Peculiar (Original Mix) 06:03

128bpm Amin

Loco & Jam

- Chasing Stars (Original Mix) 06:25

128bpm G#maj

Christian Smith, Drunken Kong

- XS (Original Mix) 06:34

128bpm Dmaj
Download: NiTROFLARE - ALFAFILE