Best Of Let There Be House 2019 FLAC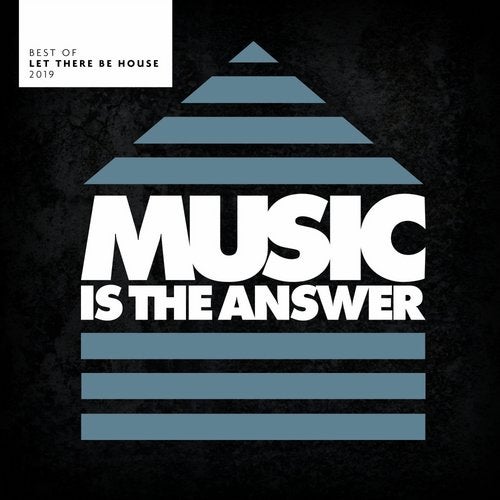 ARTIST VA
RELEASE TITLE Best Of Let There Be House 2019
LABEL Let There Be House Records
CATALOG LTBHA016
GENRE House
AUDIO FORMAT FLAC Lossless 16bit
RELEASE DATE 2019-12-06
https://www.beatport.com/release/best-of-let-there-be-house-2019/2789254
42 TRACKS:


What an incredible 2019 it has been for Let There Be House Records!
Head of Let There Be House, DJ and producer Glen Horsborough: 'This year has been our best so far with a number one record on both Beatport and Traxsource. The support we've received from DJ's and artists and fans of our music has been amazing. Head of A&R Pete Chard: '2019 has been the strongest since we started the label and to see the growth over the past 12 months is incredible. We work with some very talented producers which enables us to release great House Music. Roll on 2020 - Big love.'
With 40 tracks and two continuous mixes this album showcases our great catalogue of 2019. This compilation includes tracks from Peter Brown, Mattei & Omich, Alex Preston, Sebb Junior, Mark Lower, Glen Horsborough and many more!
Let There Be House - Music Is The Answer
ltbh.co.uk
Mark Lower, Shyam P

- Wrong Turn (Original Mix) 04:03

122bpm Dmin

Glen Horsborough

- New Times Ahead (Peter Brown Remix) 04:11

124bpm F#min

Soul Divide

- Rejoice (Original Mix) 03:54

124bpm Dmin

Samo, MVZZIK

- Your Kisses (84Bit Late Night Summer Remix) 02:53

124bpm Gmin

Namara

- Looking At Me (Mark Lower Remix) 04:05

123bpm D#min

Austins Groove

- Back To You (Original Mix) 03:28

122bpm Cmin

Samo, Lee Wilson

- Higher (Original Mix) 03:40

124bpm Bmin

Alex Preston

- The Mighty High (Sebb Junior Remix) 03:54

125bpm C#min

Glen Horsborough, In It Together

- Not Over (Midland People Remix) 03:21

124bpm Cmin

Hot Jam

- Not Love In (Original Mix) 03:56

124bpm Cmin

Alessio Collesano

- Let Me Love In (Original Mix) 03:54

123bpm Amin

Tomaas All, Martin Alix

- Be Fine (Original Mix) 04:03

123bpm A#min

Yes Baby!

- In Love (Original Mix) 04:13

123bpm A#maj

JazzyFunk

- I Can Feel It (Extended Mix) 03:12

125bpm Fmaj

In It Together

- To Be Saved (Original Mix) 03:34

123bpm Amin

Stephen Nicholls

- Do It Right (Andy Reid Remix) 03:58

123bpm Gmin

Chris Brogan, Si Sax

- Touch Me (Original Mix) 03:46

125bpm F#min

Luigii Nieto

- Sexy (Alias Rhythm Remix) 03:11

124bpm Dmin

Funky Truckerz

- Good Things (Mirko & Meex Remix) 03:40

124bpm Amaj

JazzyFunk

- Whatcha Gonna Do (Qubiko Remix) 03:42

123bpm C#min

Mirelle Noveron

- Get It (Jacques Chirac Beach Terrace Mix) 04:01

123bpm Bmin

Juan Di Lago

- It's Over (Original Mix) 04:02

120bpm Cmin

Peter Brown

- I'm Gonna Hold On (Angelo Ferreri 'Funky Touch' Remix) 03:12

120bpm Amin

Cavi

- Magic (Original Mix) 03:30

123bpm A#min

Sebb Junior

- Physical (Original Mix) 03:56

124bpm Dmin

Namara

- Alright (Sebb Junior Remix) 03:43

125bpm Dmin

Just Ross

- The Power Of This Music (Original Mix) 03:50

125bpm Bmin

Glen Horsborough

- You Don't Know (Original Mix) 03:13

124bpm D#min

Ash Paine

- Give Me Love (Original Mix) 03:29

124bpm Cmin

Ben Delay

- Hold Me Close (Original Mix) 02:44

124bpm Amin

Mike La Funk, Lyla Bull

- Alive (Bauuer Remix) 04:07

123bpm Fmin

FOXX & FROST

- Heart Stone (Original Mix) 03:30

124bpm Amin

Luigii Nieto

- Lucky (Alias Rhythm Remix) 03:26

124bpm Amin

84Bit

- Set My Soul Free (Original Mix) 03:46

125bpm C#min

Duh Oliver

- Long Run (Original Mix) 03:23

124bpm Gmin

Wekingz

- Keep It Comin' (Original Mix) 02:59

123bpm Amin

JazzyFunk

- Feel In (Original Mix) 03:58

124bpm F#min

Chris Brogan

- Lifting Me Higher (Original Mix) 03:23

125bpm Fmaj

Ella, Mattei & Omich

- Find You (Glen Horsborough Remix) 03:10

124bpm G#min

John Steel, The Visionaires

- Destiny (Stephen Nicholls Remix) 03:25

123bpm Cmin

Glen Horsborough

- Best Of Let There Be House 2019 (Continuous Mix 1) 103:38

124bpm Amin

Glen Horsborough

- Best Of Let There Be House 2019 (Continuous Mix 2) 98:16

124bpm Amin
Download: NiTROFLARE - ALFAFILE